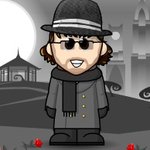 Sergio Silva Santos
Sérgio Silva Santos was born in 1986, Aveiro, Portugal. He is a portuguese architect who like to make photography and cartoons based on the pictures he take. He also is a 3D artist. Working in Portugal at this very moment he is a freelancer in all aspects of his professional career. -- http://about.me/sergiosilvasantos Sergio Silva Santos joined Society6 on September 11, 2011
More
Sérgio Silva Santos was born in 1986, Aveiro, Portugal. He is a portuguese architect who like to make photography and cartoons based on the pictures he take. He also is a 3D artist. Working in Portugal at this very moment he is a freelancer in all aspects of his professional career.
http://about.me/sergiosilvasantos
Sergio Silva Santos joined Society6 on September 11, 2011.