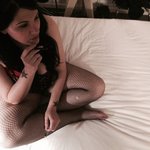 Serpenthes
ALSO CHECK OUT more art + product on Threadless: http://serpenthes.threadless.com artist, carnivore, T.Rex keeper, native of Angel City. Militant peace keeper. Fan of strong coffee, sharp knives, cussing to prove a point, + lionhas3heads.com "Serpenthes is the work of self-taught Los Angeles native Gabriela Ruiz. Her illustrated creations range from whimsical to macabre, from precise pen to exaggerated paint. She describes her work as things you'd probably see right before the end of the world, when everything is not quite right. Or perhaps the result of riding public transportation for too long. Gabriela draws inspiration from love, the past, the present, and some of her favorite things: local exploration, art deco design, classic horror & film noir, natural history museums, & her Mexican / Costa Rican heritages. Her unique illustrations have been featured across California including WonderGround Gallery at Downtown Disney, Comikaze Expo, and RAW Artists Hollywood. Gabriela resides in Los Angeles with a small wolf pack and terrible phone service." Serpenthes joined Society6 on July 20, 2016
More
ALSO CHECK OUT more art + product on Threadless: http://serpenthes.threadless.com
artist, carnivore, T.Rex keeper, native of Angel City. Militant peace keeper. Fan of strong coffee, sharp knives, cussing to prove a point, + lionhas3heads.com
"Serpenthes is the work of self-taught Los Angeles native Gabriela Ruiz. Her illustrated creations range from whimsical to macabre, from precise pen to exaggerated paint. She describes her work as things you'd probably see right before the end of the world, when everything is not quite right. Or perhaps the result of riding public transportation for too long.
Gabriela draws inspiration from love, the past, the present, and some of her favorite things: local exploration, art deco design, classic horror & film noir, natural history museums, & her Mexican / Costa Rican heritages. Her unique illustrations have been featured across California including WonderGround Gallery at Downtown Disney, Comikaze Expo, and RAW Artists Hollywood.
Gabriela resides in Los Angeles with a small wolf pack and terrible phone service."
Serpenthes joined Society6 on July 20, 2016.
Prints by Serpenthes
39 results
Filter