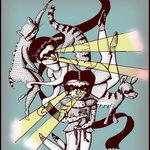 Seth Duhy
I live in Los Angeles and work in Television, yet I am from Louisiana. Every blue moon I get a muse that leads me to create a collection of art.....Soon, that muse passes and I can't bring myself to create anymore.....Then, the cycle starts again. www.brushstrokesandpixels.com Seth Duhy joined Society6 on April 5, 2011
More
I live in Los Angeles and work in Television, yet I am from Louisiana.
Every blue moon I get a muse that leads me to create a collection of art.....Soon, that muse passes and I can't bring myself to create anymore.....Then, the cycle starts again.
www.brushstrokesandpixels.com
Seth Duhy joined Society6 on April 5, 2011.
Prints by Seth Duhy
19 results
Filter