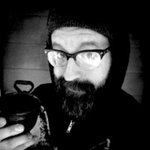 Seth W.
About Seth W.
I've been a nomadic since August of 2010, when I left Brooklyn NY with a bag and a laptop. I've biked across NJ and PA, and made my way across Ohio, then south to Austin, TX and west to Albuquerque, NM by way of Greyhound Bus with my bike in tow.
These are just some of the photos (and drawings) from my adventures. Carrying prints and one-off drawings of my robots became tougher and my collection drew, and well, it's not like I was selling through my robots like hot-cakes. MMmmm. Hot cakes.
So now I entrust Society6 to print my works, and send them off. I hope you enjoy.
Please say hello via Twitter (@sethw) or email (sethw@sethw.com)
Seth W. joined Society6 on April 27, 2012.