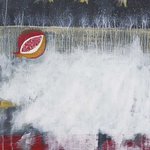 sEv 86
An Armenian from California, Sevag Mahserejian has become an artist of many means fusing culture, painting, theatre, writing, and film all into one. Exhibited throughout Los Angeles, Sevag is no stranger to experimenting with new media and diving head first into the variety the world of art provides. Ranging from large installation pieces that resonate his childlike imagination to illustrations that play on negative spaces to stencils, murals, and paintings which individually showcase his creativity with an all access pass to spectators. For more information on Sevag and his work, please visit: www.sev86.com sEv 86 joined Society6 on September 23, 2014
More
An Armenian from California, Sevag Mahserejian has become an artist of many means fusing culture, painting, theatre, writing, and film all into one. Exhibited throughout Los Angeles, Sevag is no stranger to experimenting with new media and diving head first into the variety the world of art provides. Ranging from large installation pieces that resonate his childlike imagination to illustrations that play on negative spaces to stencils, murals, and paintings which individually showcase his creativity with an all access pass to spectators.

For more information on Sevag and his work, please visit: www.sev86.com
sEv 86 joined Society6 on September 23, 2014.
sEv 86's Store
38 results
Filter