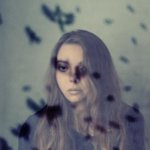 Severine A. Raynaud
www.saraynaud.wordpress.com Not destined for photography, my steps first guided me to the theater, cinema and the history of art at university, after graduating in literature. So no pictures, but still, the desire to tell stories, no matter the media. I write as far back as I can remember, but describing the worlds I had in mind , the characters that haunted me in notebooks ended up not suffice me . I wanted to see them, to be a physical part of them . The theater gave me this for a while, but the feelings that I was playing, the words coming out of my mouth does not belong to me , do not necessarily express my worldview . It was then that I turned to photography . Since my childhood rocked by tales and legends , my choice of reading and writing have always been to me the fantasy genre and mythology. Today , I use them in my portraits to perpetuate the tradition of storytelling to inspire and tell the world that surrounds me . I want to be part of this timeless storytellers . Made with soft natural and diffused light, using mainly shades of blue , magenta and gold, these conceptual portraits have whimsical and surreal atmospheres. Having a backdrop of fairy tales, myths and legends (essentially Celtic , Nordic , Native American and Asian ) , they borrow the symbolism and elements to explore themes such as renaissance and recognition , fear and self-confidence and the questioning of our human nature. Severine A. Raynaud joined Society6 on December 17, 2014
More
www.saraynaud.wordpress.com
Not destined for photography, my steps first guided me to the theater, cinema and the history of art at university, after graduating in literature. So no pictures, but still, the desire to tell stories, no matter the media.
I write as far back as I can remember, but describing the worlds I had in mind , the characters that haunted me in notebooks ended up not suffice me . I wanted to see them, to be a physical part of them . The theater gave me this for a while, but the feelings that I was playing, the words coming out of my mouth does not belong to me , do not necessarily express my worldview . It was then that I turned to photography . Since my childhood rocked by tales and legends , my choice of reading and writing have always been to me the fantasy genre and mythology. Today , I use them in my portraits to perpetuate the tradition of storytelling to inspire and tell the world that surrounds me . I want to be part of this timeless storytellers .
Made with soft natural and diffused light, using mainly shades of blue , magenta and gold, these conceptual portraits have whimsical and surreal atmospheres. Having a backdrop of fairy tales, myths and legends (essentially Celtic , Nordic , Native American and Asian ) , they borrow the symbolism and elements to explore themes such as renaissance and recognition , fear and self-confidence and the questioning of our human nature.
Severine A. Raynaud joined Society6 on December 17, 2014.