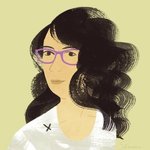 Sarah Ferone Illustration + Design
About Sarah Ferone Illustration + Design
I'm an illustrator based in Philadelphia. I love collaborating on all sorts of projects including editorial, advertising, packaging, and children's products. My work balances a love of handmade and digital processes for a fresh, artful approach. I'm inspired by the stories behind everyday experiences, with a focus on good eats, healthy living and globe-trotting.
View my portfolio at:
http://www.sarahferone.com
Connect on Instagram:
https://www.instagram.com/s.ferone
Sarah Ferone Illustration + Design joined Society6 on February 28, 2013.