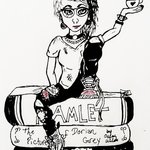 Shinae
I draw things. If you want a custom design, just let me know! I absolutely take commissions. I work mainly in conte crayon and biro (ballpoint) pen, but I know watercolour, acrylic, oil pastel and probably can learn anything you can throw at me! I'm adaptable, if that's what you call it. :D shadows-and-rainbows.deviantart.com food-and-tea-and-things.tumblr.com I like tea, bikes, umbrellas, curry and skulls. Shinae joined Society6 on May 22, 2012
More
I draw things. If you want a custom design, just let me know! I absolutely take commissions.
I work mainly in conte crayon and biro (ballpoint) pen, but I know watercolour, acrylic, oil pastel and probably can learn anything you can throw at me! I'm adaptable, if that's what you call it. :D
shadows-and-rainbows.deviantart.com food-and-tea-and-things.tumblr.com
I like tea, bikes, umbrellas, curry and skulls.
Shinae joined Society6 on May 22, 2012.
+Ipad Cases by Shinae
74 results
Filter