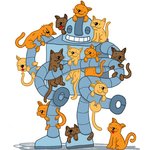 Shakey Illustrations
Jake is a man obsessed with doodling. (Cute things, of course!)
He began his career as a freelance illustrator after graduating from Brighton University in 2011 with a degree in Illustration.
Jake's images "pop": quirky characters, bold palettes and eye-catching patterns are his specialties.
His greatest strength is his ability to create characters with personality, which makes him perfectly suited to illustrate for fiction, particularly children's literature.
Read more
Shakey Illustrations's Store
Filter