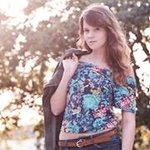 Shannon Valentine
Shannon began painting with acrylics when she was thirteen years old. She has won first place for entries at both the Florida State Fair and at the Plant City Strawberry Festival. Her artistic skills greatly improved after the East Hillsborough Art Guild granted her a scholarship for a summer art course complete with quality art supplies in 2009.
Currently, Shannon is working as an art teacher at the Michaels located in Brandon, Florida. Her classes for the summer are on Fridays and Saturdays from 4 PM-6 PM. She teaches Seascapes, Landscapes, Florals, Portraitures, and Still Life courses. For class inquiries, please call Michaels at (813) 653-9700.
For all other business inquiries, please email ShannonValentine93@gmail.com.
Read more