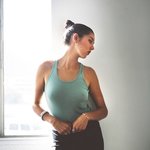 Sharon Ryder
see my work in hi-res @ www.sharonryder.com I was born in Chile, I live in California, I'm a vegan, and art is my spiritual fuel. I find inspiration for my artwork in the scientific and spiritual ways in which the world is perceived by humanity and how these ways of experiencing the world can meet. My art is a study of the intangible aspects of consciousness and an attempt to visually express the otherwise inexpressible. Sharon Ryder joined Society6 on April 22, 2013
More
see my work in hi-res @ www.sharonryder.com
I was born in Chile, I live in California, I'm a vegan, and art is my spiritual fuel.
I find inspiration for my artwork in the scientific and spiritual ways in which the world is perceived by humanity and how these ways of experiencing the world can meet. My art is a study of the intangible aspects of consciousness and an attempt to visually express the otherwise inexpressible.
Sharon Ryder joined Society6 on April 22, 2013.
Sharon Ryder's Store
8 results
Filter