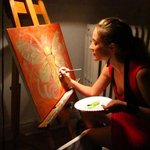 Sharon Stelluto Art
Through my work I capture the visual representations of the subtle energies of nature and universal life force. Inspired by the natural world, the human form, botanical life, geological references and galactic imagery, I infuse my work with a sense of connection to all that is.
Being a long time student of yoga and a healing practitioner for over ten years, I blend my work with a connection to energy awareness, higher consciousness and the potential that lies within each individual as their truest self.
I believe art can inspire people on subtle levels to create a new world, a new hope for the future and a new way of being in connection to your self. Art speaks the truths untold by a society and is often a representation of where we currently reside or hope to transcend to as a culture.
Sharon Stelluto was born in 1981 in New Jersey. She spent her adolescent years in Charlotte, North Carolina with the opportunity to appretice with professional figure painter, Andrew Braitman. She learned the subtleties of figure drawing and painting at a young age. After moving back to the Northeast for art school in New York, she still remained a resident of New York for many years while helping to manage the Chapel of Sacred Mirrors, an art retreat center in the Hudson Valley of New York, directed by visionary artists Alex and Allyson Grey. There she studied under the guidance of many international artists including Alex and Allyson themselves. She created many art installations during her time at CoSM and developed as a live painter during events at the center. Sharon has exhibited her work nationally with a solo show in New York City and other various locations around the U.S. With a recent move to the desert of the southwest, her work continues to expand and evolve with the new location's inspiration.
Read more
Canvas by Sharon Stelluto Art
6 results
Filter