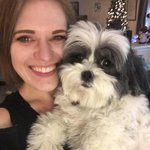 Shauna Lynn Panczyszyn
I am a hand lettering artist and illustrator in Chicago, where I work from my home studio with my puppy, Teddy Bear. I specialize in illustration and lettering for editorial, packaging/labels, book covers, and work focused in the young adults and children's markets.
To hire me, email shauna@shaunalynn.com or visit shaunalynn.com/workwithme.
Read more
Shauna Lynn Panczyszyn's Store
Filter