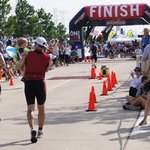 Shawn's Anomaly
In 2009, Matthew Murphy was an overweight couch potato awaiting birth of his son. Soon, Matthew and wife, Rachel, learned that Shawn was suffering from several rare birth anomalies that would require unprecedented surgeries.
14 months and 3 surgeries later, Shawn lay in world renowned Texas Children's Hospital a survivor. As Shawn recovered, Matthew realized that his small son's impossible recovery inspired him to attempt his own impossible, to become an Ironman Triathlete.
In less than a year, Matthew went from couch to completing 12 endurance events in honor of Shawn's recovery.
As the story became popular, Shawn's Anomaly Research Fund at Texas Children's Hospital was started with a mission of discovering causes and treatments for children with anomalies similar to Shawn's all over the world. Matthew is now joined with volunteers and other athletes to help raise awareness for the cause.
Ironman Texas is the final chapter for the Shawn's Ironman journey, but the journey of Shawn's Anomaly Foundation continues…
For more info go to www.shawnsanomaly.org
Read more
Shawn's Anomaly's Store
Filter