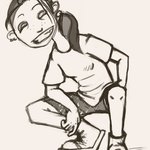 Shay Horne
Shailey's interest in art began at a young age. Her father was classically trained in animation and in being surrounded by his work and having the opportunity to use his tools, Shailey started down a path of artistic expression that she has continued to travel throughout her life. Using both traditional and digital media, Shailey draws on her inspiration from music, science fiction, fantasy and the cartoon hey-days of the 1990's to create creatures that tap into our sense of wonder about our own world and worlds beyond. Shay Horne joined Society6 on September 1, 2014
More
Shailey's interest in art began at a young age. Her father was classically trained in animation and in being surrounded by his work and having the opportunity to use his tools, Shailey started down a path of artistic expression that she has continued to travel throughout her life.
Using both traditional and digital media, Shailey draws on her inspiration from music, science fiction, fantasy and the cartoon hey-days of the 1990's to create creatures that tap into our sense of wonder about our own world and worlds beyond.
Shay Horne joined Society6 on September 1, 2014.