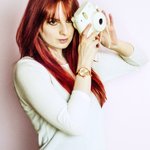 Sheree Grace
I *heart eyes emoji* wildlife. No, seriously. I care deeply about conservation, deforestation and the risk our sea life is in. But, more importantly. I look at all wild creatures on land and in the sea as beautiful. You'll even spot me talking to them as I'm photographing them. Because they understand. Honestly. I take environmental wildlife and animal portraits and I turn them into prints. I also create mixed media portraits by stripping the natural backdrop and adding in solid colour textures. My photography + my mad editing skills = this. I also sometimes sketch out hand drawn wildlife in the effect of rough outlines. I'm a photographer, not an illustrator, so my sketches are always to the effect of looking "handmade." That's my style. Rough, soft sketches. Aside from, you know, environmental wildlife portraits. Portfolio: 500px.com/shereegrace Lifestyle column: kindlysheree.com Twitter: @shegracee Sheree Grace joined Society6 on October 29, 2015
More
I heart eyes emoji wildlife. No, seriously. I care deeply about conservation, deforestation and the risk our sea life is in. But, more importantly. I look at all wild creatures on land and in the sea as beautiful. You'll even spot me talking to them as I'm photographing them. Because they understand. Honestly.
I take environmental wildlife and animal portraits and I turn them into prints. I also create mixed media portraits by stripping the natural backdrop and adding in solid colour textures. My photography + my mad editing skills = this. I also sometimes sketch out hand drawn wildlife in the effect of rough outlines. I'm a photographer, not an illustrator, so my sketches are always to the effect of looking "handmade." That's my style. Rough, soft sketches.
Aside from, you know, environmental wildlife portraits.
Portfolio: 500px.com/shereegrace Lifestyle column: kindlysheree.com Twitter: @shegracee
Sheree Grace joined Society6 on October 29, 2015.