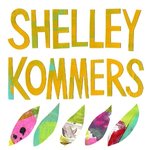 Shelley Kommers
Shelley Kommers is an artist and illustrator living in Los Angeles. Her artwork is collage-based, textured, and layered, with a cheeky, whimsical quality. After studying Advertising at Art Center College of Design, Shelley applied her skills to illustration, clothing design, and graphic design. Her artwork has been shown in galleries nationwide, and has been published in numerous magazines and books. She lives in the mountains above Los Angeles with her husband, eight-year-old daughter, and toddler son.  + Portfolio: http://www.shelleykommers.com Blog: http://www.oiseaux.typepad.com/
 Flickr: http://www.flickr.com/photos/9384997@N08/ Pinterest: http://www.pinterest.com/shelleykommers/ Shelley Kommers joined Society6 on July 11, 2009
More
Shelley Kommers is an artist and illustrator living in Los Angeles. Her artwork is collage-based, textured, and layered, with a cheeky, whimsical quality. After studying Advertising at Art Center College of Design, Shelley applied her skills to illustration, clothing design, and graphic design. Her artwork has been shown in galleries nationwide, and has been published in numerous magazines and books. She lives in the mountains above Los Angeles with her husband, eight-year-old daughter, and toddler son.
Portfolio: http://www.shelleykommers.com Blog: http://www.oiseaux.typepad.com/
 Flickr: http://www.flickr.com/photos/9384997@N08/ Pinterest: http://www.pinterest.com/shelleykommers/
Shelley Kommers joined Society6 on July 11, 2009.
Throw Blankets by Shelley Kommers
2 results
Filter