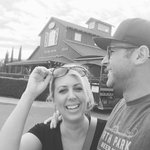 Shelley Rezai
Hello there! I'm Shelley and I am a mama, painter, occasional writer and dreamer. I specialize in abstract works that focus on color and flow. I love creating custom pieces for the curated home and collaborating with interior designers. Original art can add beauty and meaning to your home. I am lucky enough to live in sunny Southern California and this deeply inspires my work. The flowers, the sea, the air, the colors and the ethereal feelings that come with living here are a constant theme in my paintings. Original paintings are available at www.shelleyrezai.com Shelley Rezai joined Society6 on July 8, 2017
More
Hello there! I'm Shelley and I am a mama, painter, occasional writer and dreamer.
I specialize in abstract works that focus on color and flow. I love creating custom pieces for the curated home and collaborating with interior designers. Original art can add beauty and meaning to your home.
I am lucky enough to live in sunny Southern California and this deeply inspires my work. The flowers, the sea, the air, the colors and the ethereal feelings that come with living here are a constant theme in my paintings.
Original paintings are available at www.shelleyrezai.com
Shelley Rezai joined Society6 on July 8, 2017.
Shelley Rezai's Store
79 results
Filter