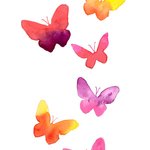 SherbetPaperCo
Hi there!
My name is Natasha and welcome to shop.
SherbetPaperCo is my passion project and I hope to bring more color and effervescence to your world. I am a self- taught artist living and working on the East Coast. I love working with watercolor for its magical properties. My style is simple, colorful and fun- very reflective of my personality. My paintings are inspired by travel moments, everyday objects and the bright bold hues of my native India.
Thank you for stopping by and supporting my work! Happy Shopping!
Find me on social media
Instagram: https://www.instagram.com/sherbetpaperco/
Faceboook: https://www.facebook.com/sherbetpaperco
Read more
SherbetPaperCo's Store
46 results
Filter