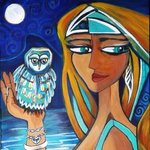 Sheridon Rayment
Hi, Welcome to my store. I am an Australian wildlife artist, contemporary painter, photographer & freelance illustrator. A self-taught artist, with academic qualifications, a Bachelor of Arts Degree, Visual Arts from the University of Newcastle, NSW, Australia. I like to draw and paint a diverse range of subjects, fauna, flora, landscapes, esoteric /intuitive artworks. I explore techniques associated with automatic art, channelled art, creating with the higher self and subconscious. Archaeology inspires me in particular Celtic, Viking and Scythian, as well as myths and legends. I am prolific and driven in my work, however I research my subjects and I gain much knowledge and understanding by studying them. Nature is my inspiration. I try to incorporates complex realistic backgrounds into my illustrations and paintings depicting the colours and textures of the diversely different environments within Australia. I like variety and I enjoy experimenting. I adapt my style to suit the artwork. I work in a variety of media, pencil, pastel, pe n & ink, watercolour, mixed media and acrylics. I paint on anything, canvas, board, paper, fabric, glass, walls, from miniatures to street murals. I also work with textiles, and I dabble in sculpture. For the past few years I have been designing and creating jewellery. Currently I specialise in owl art, but I am also immersing myself into a more graphic anime style, big eyed art with a new series I am working on, Little Heathens. My original paintings and prints are available through selected galleries and retail outlets. https://www.facebook.com/pages/The-Art-of-Sheridon-Rayment/187481978050539?ref=hl Sheridon Rayment joined Society6 on September 21, 2014
More
Hi, Welcome to my store.
I am an Australian wildlife artist, contemporary painter, photographer & freelance illustrator.
A self-taught artist, with academic qualifications, a Bachelor of Arts Degree, Visual Arts from the University of Newcastle, NSW, Australia.
I like to draw and paint a diverse range of subjects, fauna, flora, landscapes, esoteric /intuitive artworks. I explore techniques associated with automatic art, channelled art, creating with the higher self and subconscious. Archaeology inspires me in particular Celtic, Viking and Scythian, as well as myths and legends.
I am prolific and driven in my work, however I research my subjects and I gain much knowledge and understanding by studying them.
Nature is my inspiration. I try to incorporates complex realistic backgrounds into my illustrations and paintings depicting the colours and textures of the diversely different environments within Australia.
I like variety and I enjoy experimenting. I adapt my style to suit the artwork. I work in a variety of media, pencil, pastel, pe n & ink, watercolour, mixed media and acrylics. I paint on anything, canvas, board, paper, fabric, glass, walls, from miniatures to street murals.
I also work with textiles, and I dabble in sculpture. For the past few years I have been designing and creating jewellery. Currently I specialise in owl art, but I am also immersing myself into a more graphic anime style, big eyed art with a new series I am working on, Little Heathens. My original paintings and prints are available through selected galleries and retail outlets.
https://www.facebook.com/pages/The-Art-of-Sheridon-Rayment/187481978050539?ref=hl
Sheridon Rayment joined Society6 on September 21, 2014.