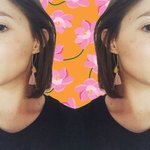 She's That Wallflower
Hello! My name is Elizabeth and I am a Graphic Designer from Sydney, Australia. In creating my work, I enjoy experimenting with different methods, including hand illustration, digital illustration and photography. I dream of a floral patterned world... You can also find me on: RedBubble (stationery, scarves and more!): http://www.redbubble.com/people/lizwallflower Live Heroes (they do all over print sweaters!): https://liveheroes.com/en/brand/shes-that-wallflower Print All Over Me: https://paom.com/designer/shes-that-wallflower/#/profile-designs Instagram: shes_that_wallflower Behance: www.behance.net/elizabeth_tuck Feel free to contact me via email if you have any requests or questions: elizabeth.tuck@mail.com She's That Wallflower joined Society6 on December 8, 2015
More
Hello!
My name is Elizabeth and I am a Graphic Designer from Sydney, Australia. In creating my work, I enjoy experimenting with different methods, including hand illustration, digital illustration and photography. I dream of a floral patterned world...
You can also find me on:
RedBubble (stationery, scarves and more!):
http://www.redbubble.com/people/lizwallflower
Live Heroes (they do all over print sweaters!): https://liveheroes.com/en/brand/shes-that-wallflower
Print All Over Me: https://paom.com/designer/shes-that-wallflower/#/profile-designs
Instagram: shes_that_wallflower
Behance: www.behance.net/elizabeth_tuck
Feel free to contact me via email if you have any requests or questions: elizabeth.tuck@mail.com
She's That Wallflower joined Society6 on December 8, 2015.