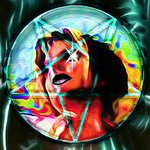 SheTheMasterCovets
Heavy metal, horror movies, classic rock, strange and unusual, and dark humor are just a few ways to describe most of the subject matter of my work. Using strange fonts, extreme distressing of the pieces, and sometimes "gaudy" colors schemes; I create things that make people look twice to get the whole picture. My artwork tends to ride on "the dark side" and "sick humor" but that makes it more fun! SheTheMasterCovets joined Society6 on February 21, 2016
More
Heavy metal, horror movies, classic rock, strange and unusual, and dark humor are just a few ways to describe most of the subject matter of my work.
Using strange fonts, extreme distressing of the pieces, and sometimes "gaudy" colors schemes; I create things that make people look twice to get the whole picture. My artwork tends to ride on "the dark side" and "sick humor" but that makes it more fun!
SheTheMasterCovets joined Society6 on February 21, 2016.