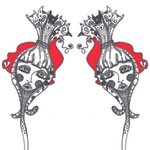 SheThinksinColors
I am Contemporary Artist Wendy bij de Ley aka She Thinks in Colors. Works with paint, mixed media en lots of colors at Atelier Studio STIC. Also an Illustrator, graphic designer & muralist. www.shethinksincolors.com. "Colors & Cats are my day-long obsession, joy and torment" X Wendy's figurative, colourful paintings are inspired by cats, quotes, lyrics, love, daily life, contrasts, structures or just her own imagination. Her work is a world of colour, she wants to make the world a little bit more happy. Her brandname is She Thinks in Colors Currently she is working as an illustrator, graphic designer and painter. Also gives workshops drawing and painting in her atelier. Wendy graduated at the Fontys Academy of Visual Arts in Sittard, Illustrative Design. At the moment she has an exposition in stock at Galerie Norbert Dabekaussen - Sittard. SheThinksinColors joined Society6 on August 27, 2010
More
I am Contemporary Artist Wendy bij de Ley aka She Thinks in Colors. Works with paint, mixed media en lots of colors at Atelier Studio STIC. Also an Illustrator, graphic designer & muralist. www.shethinksincolors.com. "Colors & Cats are my day-long obsession, joy and torment" X
Wendy's figurative, colourful paintings are inspired by cats, quotes, lyrics, love, daily life, contrasts, structures or just her own imagination. Her work is a world of colour, she wants to make the world a little bit more happy.
Her brandname is She Thinks in Colors
Currently she is working as an illustrator, graphic designer and painter. Also gives workshops drawing and painting in her atelier.
Wendy graduated at the Fontys Academy of Visual Arts in Sittard, Illustrative Design. At the moment she has an exposition in stock at Galerie Norbert Dabekaussen - Sittard.
SheThinksinColors joined Society6 on August 27, 2010.