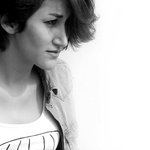 Sheida Shahbaz
All images by Sheida Shahbaz. It is unlawful to copy, edit, display or redistribute copyrighted images without my permission. Thanks for visiting my page! I'm so happy that these pieces of art can be a part of your life! If you like to buy something - many thanks! I would be very please, if you could sent me a picture of you with your product on my e-mail account! sheida.shahbaz@gmail.com Have the best day of your life every day! Sheida Sheida Shahbaz joined Society6 on February 18, 2016
More
All images by Sheida Shahbaz. It is unlawful to copy, edit, display or redistribute copyrighted images without my permission.
Thanks for visiting my page!
I'm so happy that these pieces of art can be a part of your life! If you like to buy something - many thanks! I would be very please, if you could sent me a picture of you with your product on my e-mail account!
sheida.shahbaz@gmail.com
Have the best day of your life every day!
Sheida
Sheida Shahbaz joined Society6 on February 18, 2016.