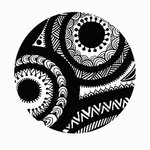 Shika Design
I`m a Textile Designer specialized in Jaquards. My style has a fabric feel and I love to work with woven looks too. I also do surface design with all over patterns. Mandalas hand painted in wood and huge Mandala Murals are my other passion. https://www.etsy.com/shop/SHIKAdesign Here you can take a look of my work, https://www.facebook.com/shika.shikadesign ♥ Shika Design joined Society6 on October 29, 2014
More
I`m a Textile Designer specialized in Jaquards. My style has a fabric feel and I love to work with woven looks too. I also do surface design with all over patterns. Mandalas hand painted in wood and huge Mandala Murals are my other passion.
https://www.etsy.com/shop/SHIKAdesign Here you can take a look of my work, https://www.facebook.com/shika.shikadesign
♥
Shika Design joined Society6 on October 29, 2014.