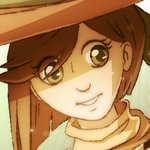 ShinePaw
✶Thank you for visiting my gallery and I hope you'll enjoy what you see here!✶ I'm a freelancer illustrator and concept artist, mainly working for game sites and companies. Occasionally I do commissions and I usually draw animals, fantasy creatures, or anything that's cute. Lately my main focus is game art and comics, these fill out most of my time, but I love doing it! I have several projects I'm working on behind the scenes as well, hoping that one day I can release them to the public! Until then I hope you enjoy my little scribblings! Thank you for looking! ShinePaw joined Society6 on September 6, 2014
More
✶Thank you for visiting my gallery and I hope you'll enjoy what you see here!✶
I'm a freelancer illustrator and concept artist, mainly working for game sites and companies. Occasionally I do commissions and I usually draw animals, fantasy creatures, or anything that's cute. Lately my main focus is game art and comics, these fill out most of my time, but I love doing it! I have several projects I'm working on behind the scenes as well, hoping that one day I can release them to the public! Until then I hope you enjoy my little scribblings!
Thank you for looking!
ShinePaw joined Society6 on September 6, 2014.