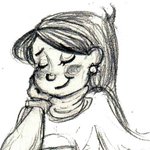 Shiny
Hello! My name is Ly MacNeil, though I usually go by Shiny on the internet. Im a Canadian comic artist/illustrator attending university for history. My main method of media is copic markers with fix ups in PS. I am currently working with Cracked Labyrinth on a tabletop hand book with new races, classes, and monsters. You can check out more art on my tumblr at http://shiny-art.tumblr.com or http://shiny-bee.tumblr.com/tagged/my+art. I take requests as well! Have a nice daayyy :3 Shiny joined Society6 on August 2, 2013
More
Hello! My name is Ly MacNeil, though I usually go by Shiny on the internet. Im a Canadian comic artist/illustrator attending university for history. My main method of media is copic markers with fix ups in PS. I am currently working with Cracked Labyrinth on a tabletop hand book with new races, classes, and monsters.
You can check out more art on my tumblr at http://shiny-art.tumblr.com or http://shiny-bee.tumblr.com/tagged/my+art. I take requests as well! Have a nice daayyy :3
Shiny joined Society6 on August 2, 2013.