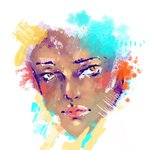 ShinyTeaCup
Welcome to my shop! I'm an aspiring digital artist making my way through university while exploring my creative limits. I began using Photoshop at the age of 12 and have fallen into a lifelong love with it ever since. My main interest is in portraiture and the study of people. My website is: http://dustyteacup.wix.com/maryavery ShinyTeaCup joined Society6 on October 10, 2014
More
Welcome to my shop!
I'm an aspiring digital artist making my way through university while exploring my creative limits. I began using Photoshop at the age of 12 and have fallen into a lifelong love with it ever since. My main interest is in portraiture and the study of people.
My website is: http://dustyteacup.wix.com/maryavery
ShinyTeaCup joined Society6 on October 10, 2014.