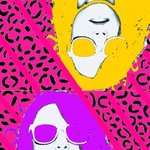 Shirane Music
Shirane & Eran are two siblings who started combining their forces to create music few years ago. They present fresh, original international style Electro-Pop music creations, made in their home studio, combining musical motives from east and west, in English and French. Shirane is the main vocalist. She's also a songwriter, pianist and drummer. Eran is the co-writer, responsible for the composition & production. He's been DJ'ing since he was 14, and is also a piano player. "It's all about the music, one song could change your entire day" Thank you so much for supporting us, Much love!" Buy now our ShiraneMusic Art to support us! Shirane Music joined Society6 on December 4, 2012
More
Shirane & Eran are two siblings who started combining their forces to create music few years ago. They present fresh, original international style Electro-Pop music creations, made in their home studio, combining musical motives from east and west, in English and French.
Shirane is the main vocalist. She's also a songwriter, pianist and drummer.
Eran is the co-writer, responsible for the composition & production. He's been DJ'ing since he was 14, and is also a piano player.
"It's all about the music, one song could change your entire day"
Thank you so much for supporting us, Much love!"
Buy now our ShiraneMusic Art to support us!
Shirane Music joined Society6 on December 4, 2012.