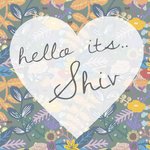 ShivDesigns
Hello I'm Siobhan, a Designer & Illustrator from the UK. I work across different areas like surface design, packaging, giftware, stationery, homewares and greeting cards using traditional and digital Illustration combined with contemporary graphic design and effective typography. Im inspired by bright patterns, nature, old stuff found in charity shops, bad jokes & pizza. ShivDesigns joined Society6 on February 15, 2016
More
Hello I'm Siobhan, a Designer & Illustrator from the UK.
I work across different areas like surface design, packaging, giftware, stationery, homewares and greeting cards using traditional and digital Illustration combined with contemporary graphic design and effective typography.
Im inspired by bright patterns, nature, old stuff found in charity shops, bad jokes & pizza.
ShivDesigns joined Society6 on February 15, 2016.