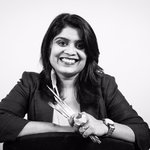 Shivi Palod
Enriched with an experience of over 6 years as an Architect and armed with Masters in Project Management, I have been blending various realms of creativity into things which have a dialogue with those who have them. The highlight of my artwork lies in intricate designs and vibrant expressions & colours, as I seek to inspire and uplift thoughts. My art portrayals are found on various mediums, like wood, cork, fabric or canvas. My USP lies in providing some unique artwork that's not readily available in Australia! Shivi Palod joined Society6 on August 31, 2016
More
Enriched with an experience of over 6 years as an Architect and armed with Masters in Project Management, I have been blending various realms of creativity into things which have a dialogue with those who have them.
The highlight of my artwork lies in intricate designs and vibrant expressions & colours, as I seek to inspire and uplift thoughts. My art portrayals are found on various mediums, like wood, cork, fabric or canvas. My USP lies in providing some unique artwork that's not readily available in Australia!
Shivi Palod joined Society6 on August 31, 2016.