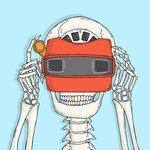 shoooes
Hi i'm Shoooes. I am a Los Angeles based artist who lives and breathes creativity. I love drawing fun and colorful illustrations that represent me as well as other people and things that make me smile. I also enjoy painting with acrylic on wood or canvas. I am also very familiar with other mediums such as: oil, watercolor, spray paint, graphite, pen, ink, and digital art. I also enjoys long walks on the beach, carbohydrates, and fluffy kittens. E: SM@ShoooesArt.com shoooes joined Society6 on April 30, 2015
More
Hi i'm Shoooes. I am a Los Angeles based artist who lives and breathes creativity. I love drawing fun and colorful illustrations that represent me as well as other people and things that make me smile. I also enjoy painting with acrylic on wood or canvas. I am also very familiar with other mediums such as: oil, watercolor, spray paint, graphite, pen, ink, and digital art.
I also enjoys long walks on the beach, carbohydrates, and fluffy kittens.
E: SM@ShoooesArt.com
shoooes joined Society6 on April 30, 2015.