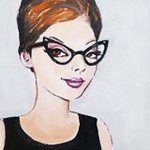 My Mysterious Past
Vintage inspired paintings with a modern edge. I've always been fascinated with people and objects of the past. When I was small I watched a lot of old black and white movies and was mesmerized by the style of the women in the long white gloves and fancy hats. I would get into my mothers old photos and secretly take out a few to keep for myself. A few years ago I was g iven all the family photos. Beautiful vintage photos of great great grandparents and distant relatives, many people I've never seen or heard of. One of my favorite items was a pair of yearbooks from the 1940's. I was so inspired by them that I did a large painting showcasing some of the characters and putting their names beneath them. I felt that I was somehow bringing them to life by giving importance and recognition to each individual. I loved doing it so much that I began to paint all kinds of vintage inspired art. I hope you enjoy my paintings! Catherine My Mysterious Past joined Society6 on March 4, 2014
More
Vintage inspired paintings with a modern edge.
I've always been fascinated with people and objects of the past. When I was small I watched a lot of old black and white movies and was mesmerized by the style of the women in the long white gloves and fancy hats. I would get into my mothers old photos and secretly take out a few to keep for myself. A few years ago I was g iven all the family photos. Beautiful vintage photos of great great grandparents and distant relatives, many people I've never seen or heard of. One of my favorite items was a pair of yearbooks from the 1940's. I was so inspired by them that I did a large painting showcasing some of the characters and putting their names beneath them. I felt that I was somehow bringing them to life by giving importance and recognition to each individual. I loved doing it so much that I began to paint all kinds of vintage inspired art.
I hope you enjoy my paintings!
Catherine
My Mysterious Past joined Society6 on March 4, 2014.