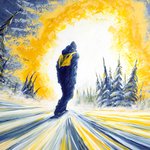 Shred Art / Stu Leonard
Stuart Leonard 'Shred Art' is a British Artist who's paintings and illustrations merge his passion for snowboarding with the wonders and wilderness of the mountain environment. His paintings celebrate the act of snowboarding through many years of riding and his own personal experiences. See more of his original paintings, artwork & projects @ www.shred-art.com Shred Art / Stu Leonard joined Society6 on May 22, 2018
More
Stuart Leonard 'Shred Art' is a British Artist who's paintings and illustrations merge his passion for snowboarding with the wonders and wilderness of the mountain environment. His paintings celebrate the act of snowboarding through many years of riding and his own personal experiences.
See more of his original paintings, artwork & projects @ www.shred-art.com
Shred Art / Stu Leonard joined Society6 on May 22, 2018.