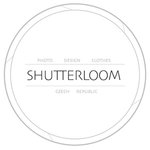 ShutterLoom
"What I like about photographs is that they capture a moment that's gone forever, impossible to reproduce." - Karl Lagerfeld The brand ShuterLoom is taking photographs and transforms them on a textile, paper,… It reminds moments on the road. Things we saw on our walk through a city. It shows the beauty of this world. Its originality, diversity and playfulness. ShutterLoom joined Society6 on October 1, 2016
More
"What I like about photographs is that they capture a moment that's gone forever, impossible to reproduce."
The brand ShuterLoom is taking photographs and transforms them on a textile, paper,… It reminds moments on the road. Things we saw on our walk through a city. It shows the beauty of this world. Its originality, diversity and playfulness.
ShutterLoom joined Society6 on October 1, 2016.