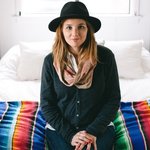 Lost Between Lands
"Lost Between Lands started as a painting Jyll did back 6 or 7 years ago, and it became a lyric in one of my (Travis) songs. Then as we were seeking to redefine ourselves, our brand, we realized our story is the new brand. We are lost between lands."
So in 2015, they are excited to announce the launch of "Lost Between Lands". Lost Between Lands is composed of art & handmade shirts for kids and adults.
Jyll grew up in Providence, RI, and Travis originated from Scottsdale, AZ. They spent three years in Somis, CA, moved to Providence, RI for five and a half years, and then back to Somis again.
"Our sense of home is very confused between family, place, and friends, yet that adventure and that struggle has been central to our family experience. We feel that a lot of other people can relate to being 'lost between lands'." Travis and Jyll's ultimate dream is to work as artists full-time, selling art and apparel, as well as children's books. Their drive to combine art and business has been a difficult road, as artists usually struggle with the stereotype of 'starving artists.' But they have been growing as artists and businesspeople and have a vision that is beyond the struggle. They believe that artists can be business-people and adapt to meet the market with their creative and artistic vision. In a sense they have seen the vision from the mountain top.
Read more
Lost Between Lands's Store
Filter
Lost Between Lands's Store