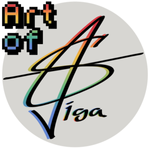 ArtofSiga
Courtney Chitsiga A digital artist that goes by the name Siga4BDN. Fighter of the un-ending fight known as art! ​a passionate lover of video games, and all things that inspire creativity and wonder. After you nab a print or frame, drop me a line on twitter! I'd love to see where you've placed it! ArtofSiga joined Society6 on May 16, 2014
More
Courtney Chitsiga A digital artist that goes by the name Siga4BDN. Fighter of the un-ending fight known as art! ​a passionate lover of video games, and all things that inspire creativity and wonder.
After you nab a print or frame, drop me a line on twitter! I'd love to see where you've placed it!
ArtofSiga joined Society6 on May 16, 2014.
ArtofSiga's Store
81 results
Filter