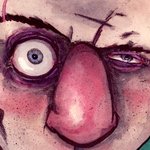 Jonathan Silence
I'm glad you came. I decided to turn my pen, ink and watercolor-works - ( an atmospheric series of animal portraits; the fairytale-sweet scenes with a dark tint and ominous undertone), into prints and pretty merchandise. However, feel free to browse through my portfolio and remember that I do commissions upon requests - don't hesitate to ask! Jonathan Silence joined Society6 on December 2, 2012
More
I'm glad you came. I decided to turn my pen, ink and watercolor-works - ( an atmospheric series of animal portraits; the fairytale-sweet scenes with a dark tint and ominous undertone), into prints and pretty merchandise.
However, feel free to browse through my portfolio and remember that I do commissions upon requests - don't hesitate to ask!
Jonathan Silence joined Society6 on December 2, 2012.