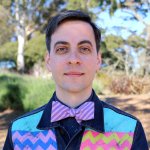 Silent James
Silent James' live illustration and picture-stories have gained him a worldwide cult following. His school years were survived by drawing comics of his punker friends. Living in a house on a dead end, he also became fond of silence.
Many suspect his name originates from his own quietness, but it is actually from his love of silent film. His artwork occurs in an asymmetrical 1920's/modern world coloured by extraordinary characters. Asymmetry plays a huge part in his life, right down to his own heterochromia.
Upon seeing the Jean-Claude Lauzon film "Leolo" and Guy Maddin's "Brand Upon the Brain", Silent James decided to make his own childhood recollection pieces. "Three" was his first picture-book, an entrancing adventure of a boy that no one pays attention to. Next he released the sequel "Dee", which follows a girl's adventure to escape unwanted attention.
Mr. James became notorious for dapper garb, as favored by his characters, complimented by suspenders and bow ties. He successfully took his character skills to the theatre in the starring role of John Guerrieri in "Speakeasy Dollhouse". Originally scheduled for just 3 nights, the show ran for over 3 years. Next he was cast in "The Brothers Booth" as the role he was born to play... himself! He has also acted in commercials, TV, film and radio.
In 2017, he published his illustrated memoir "Secrets of Silent James"; a 188 page self portrait that covers his life up until his late teens.
He works as a live illustrator for events, his site is http://SilentJames.com and he is @SilentJamesLive on social.
Read more
Silent James's Store
57 results
Filter