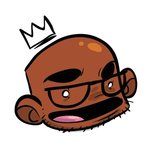 Sean A. Mack
Sean Mack, or SMACK! as he's commonly known around most parts of Alaska, is a Saginaw, MI bred aspiring illustrator and comic artist who has done work for the likes of ESPN, Complex, Myspace, Grantland, and musicians such as Musiq Soulchild, Big Sean, Rhymefest, Masspike Miles, BLAT! Pack, and others. He is one half of the creative team behind the growing webcomic The Revolutionary Times and the artist for the award nominated graphic novel KOBK (with writer C.J. Johnson). Art Blog | http://www.smackillustrations.com The Revolutionary Times | http://www.therevtimes.com The RED Series | http://www.smackred.weebly.com Sean A. Mack joined Society6 on September 26, 2011
More
Sean Mack, or SMACK! as he's commonly known around most parts of Alaska, is a Saginaw, MI bred aspiring illustrator and comic artist who has done work for the likes of ESPN, Complex, Myspace, Grantland, and musicians such as Musiq Soulchild, Big Sean, Rhymefest, Masspike Miles, BLAT! Pack, and others. He is one half of the creative team behind the growing webcomic The Revolutionary Times and the artist for the award nominated graphic novel KOBK (with writer C.J. Johnson).
Art Blog | http://www.smackillustrations.com The Revolutionary Times | http://www.therevtimes.com The RED Series | http://www.smackred.weebly.com
Sean A. Mack joined Society6 on September 26, 2011.