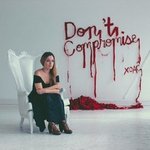 Silk Graffiti by Aubrie Costello
It all began one hot day in North Philly. I stared out of the window. I was cooped up. I wanted to break free... I worked with silk for years in my studio, shredding it and bounding objects to create assemblages of silk wrapped things for drawings and installations. But I wanted to get out and go outside. That's how Silk Graffiti started. I collected words for as long as I can remember, pulling them out of context, jotting them down on random bits of paper and in my sketchbooks. I texted myself quotes I overheard. I kept a running list of hip hop lyrics. I kept a journal. I made a point to remember phrases my dad said. I'd rush to write down a line a dude hollered at me on the street on a cocktail napkin. I saved old emails and texts from lovers. I dated a couple of graffiti artists. I studied the writing on the walls, tags, pieces, and hands of Philly writers. Graffiti resonated with me and writing was instrumental to my art making. But as a woman, I felt excluded, like it was a Boy's Club. I wondered how I could make my mark. That's when I started writing on walls in a material I knew well, a material that evoked an air of femininity - silk. That was 8 years ago. I'm still infatuated with this medium, and still in love with the written word. I shred silk that I buy on Philadelphia's historic Fabric Row, then intuitively hand-form letters onto the wall to spell out the phrases I've collected by piercing nails through ribbons of fabric. I choose to work with a sparkly, luxe material commonly used in dress makings and interior textiles, Dupioni silk, and nails I pick up from the local hardware store. Imperfect layers of the tangled silk strings, pieced silk letters, and scattered wire nails tell a story in themselves. My hand is seen and felt in the flawed typography. Natural elements, like the breeze running through the silk strands deconstruct the piece into a more dripping, tangled web as it matures. Silk Graffiti is my feminine, tactile twist to the predominately male-centric act of graffiti writing. It lets me investigate what I'm interested in: writing, ephemeral installation, nostalgia, and memories. With this work, I'm trying to take the opportunity to talk about something greater than my alias and my personal thoughts. I continue to be inspired by the words of others. For my latest project, The Unravel, I'm installing the work outside and leaving it there for the elements to do what they want with it and turn it into a beautiful mess. It only takes a couple of words to tell a story. My friends tell me I'm like a spider, spinning my little webs all over the city. Keep an eye out for my next piece on a street near you... XOAC Silk Graffiti by Aubrie Costello joined Society6 on July 19, 2015
More
It all began one hot day in North Philly. I stared out of the window. I was cooped up. I wanted to break free...
I worked with silk for years in my studio, shredding it and bounding objects to create assemblages of silk wrapped things for drawings and installations. But I wanted to get out and go outside. That's how Silk Graffiti started. I collected words for as long as I can remember, pulling them out of context, jotting them down on random bits of paper and in my sketchbooks. I texted myself quotes I overheard. I kept a running list of hip hop lyrics. I kept a journal. I made a point to remember phrases my dad said. I'd rush to write down a line a dude hollered at me on the street on a cocktail napkin. I saved old emails and texts from lovers. I dated a couple of graffiti artists. I studied the writing on the walls, tags, pieces, and hands of Philly writers. Graffiti resonated with me and writing was instrumental to my art making. But as a woman, I felt excluded, like it was a Boy's Club. I wondered how I could make my mark. That's when I started writing on walls in a material I knew well, a material that evoked an air of femininity - silk. That was 8 years ago. I'm still infatuated with this medium, and still in love with the written word.
I shred silk that I buy on Philadelphia's historic Fabric Row, then intuitively hand-form letters onto the wall to spell out the phrases I've collected by piercing nails through ribbons of fabric. I choose to work with a sparkly, luxe material commonly used in dress makings and interior textiles, Dupioni silk, and nails I pick up from the local hardware store. Imperfect layers of the tangled silk strings, pieced silk letters, and scattered wire nails tell a story in themselves. My hand is seen and felt in the flawed typography. Natural elements, like the breeze running through the silk strands deconstruct the piece into a more dripping, tangled web as it matures.
Silk Graffiti is my feminine, tactile twist to the predominately male-centric act of graffiti writing. It lets me investigate what I'm interested in: writing, ephemeral installation, nostalgia, and memories. With this work, I'm trying to take the opportunity to talk about something greater than my alias and my personal thoughts. I continue to be inspired by the words of others. For my latest project, The Unravel, I'm installing the work outside and leaving it there for the elements to do what they want with it and turn it into a beautiful mess.
It only takes a couple of words to tell a story. My friends tell me I'm like a spider, spinning my little webs all over the city. Keep an eye out for my next piece on a street near you...
XOAC
Silk Graffiti by Aubrie Costello joined Society6 on July 19, 2015.
Silk Graffiti by Aubrie Costello's Store
104 results
Filter