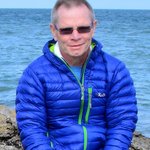 Silly Johnno
I am a self-taught photographer and artist who uses all the freedom that digital cameras and creative computer software allow. My works are all from photographs taken by me, digitally processed to reveal what I see as the art within. During the processing, I try to respond to what I saw, felt and smelt when taking the photograph and attempt to express all of these in the styles, colours and formats of the final images. The confidence I now have to exhibit and sell my work is in no small part a result of huge encouragement from my family and friends to whom I give thanks. To you, the viewer, I believe that art is beautiful, uplifting and life-affirming. I also know it is subjective but hope you enjoy mine and everyone else's on this site. Lotsa luv Silly Johnno Silly Johnno joined Society6 on February 24, 2015
More
I am a self-taught photographer and artist who uses all the freedom that digital cameras and creative computer software allow.
My works are all from photographs taken by me, digitally processed to reveal what I see as the art within. During the processing, I try to respond to what I saw, felt and smelt when taking the photograph and attempt to express all of these in the styles, colours and formats of the final images.
The confidence I now have to exhibit and sell my work is in no small part a result of huge encouragement from my family and friends to whom I give thanks.
To you, the viewer, I believe that art is beautiful, uplifting and life-affirming. I also know it is subjective but hope you enjoy mine and everyone else's on this site.
Lotsa luv
Silly Johnno
Silly Johnno joined Society6 on February 24, 2015.