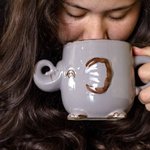 Celina M. Solis
Celina Solis has been a photographer for over ten years, exploring both, the artistic and commercial sides of the trade. Her current work has been fueled by her passion for the Barista and cafe lifestyle. She currently resides on the Central Coast and is attending Cal. State Channel Islands. When she isn't haunting independent coffee houses or working in the photography studio, she can be found backpacking in the back country of Santa Barbara and Ventura counties with her boyfriend. Celina M. Solis joined Society6 on August 12, 2016
More
Celina Solis has been a photographer for over ten years, exploring both, the artistic and commercial sides of the trade. Her current work has been fueled by her passion for the Barista and cafe lifestyle.
She currently resides on the Central Coast and is attending Cal. State Channel Islands. When she isn't haunting independent coffee houses or working in the photography studio, she can be found backpacking in the back country of Santa Barbara and Ventura counties with her boyfriend.
Celina M. Solis joined Society6 on August 12, 2016.
Celina M. Solis's Store
46 results
Filter