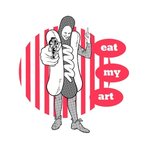 Simon Naish
I am a fine art painter based in Cheshire, England. My work is a blend of pop-art aesthetics, surreal narratives and a playful sense of the absurd. I work in a variety of media including painting, drawing and printmaking. My paintings have been exhibited in cities across the UK, including London, Manchester and Liverpool. My work is in a number of private collections and has been reviewed in a variety of local and national print publications. Simon Naish joined Society6 on April 20, 2016
More
I am a fine art painter based in Cheshire, England.
My work is a blend of pop-art aesthetics, surreal narratives and a playful sense of the absurd. I work in a variety of media including painting, drawing and printmaking.
My paintings have been exhibited in cities across the UK, including London, Manchester and Liverpool. My work is in a number of private collections and has been reviewed in a variety of local and national print publications.
Simon Naish joined Society6 on April 20, 2016.
Simon Naish's Store
45 results
Filter