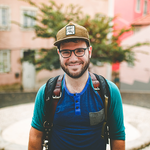 Simon Laroche
Simon Laroche is a Montréal based photographer whose work put the emphasasis on textures, patterns, graphics in urban and natural scenes. His work on Rust and the Montréal Subway are his first serious explorations. Follow him on facebook : https://www.facebook.com/simonlarochephotographie Rust Work : http://bit.ly/1d3Jxhh Subway Work : http://bit.ly/1bqEYhh Flickr account : http://bit.ly/1f3PU6V Simon Laroche joined Society6 on January 23, 2014
More
Simon Laroche is a Montréal based photographer whose work put the emphasasis on textures, patterns, graphics in urban and natural scenes. His work on Rust and the Montréal Subway are his first serious explorations.
Follow him on facebook : https://www.facebook.com/simonlarochephotographie
Rust Work : http://bit.ly/1d3Jxhh Subway Work : http://bit.ly/1bqEYhh
Flickr account : http://bit.ly/1f3PU6V
Simon Laroche joined Society6 on January 23, 2014.