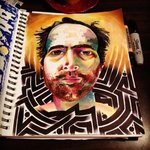 Simple Heady
Robert is a multi-media artist (painter, illustrator, cartoonist, muralist, graphic artist and sign maker to name a few). He grew up between Chicago and New Mexico and now lives just outside the city in Evanston where he maintains his studio. The nature of his work mainly deals with struggles to balance ideas, feelings and the physical world, with inspiration stemming from change, innovation, and experimentation with discipline and traditions of the craft. Although his work varies from one medium to another, he finds satisfaction in working from salvaged materials whenever the opportunity arises, such as reclaimed wood as a canvas, cut-outs from materials and publications of past, and even previous artwork. His mixed media works are visual escapes into surrealist scenes - merging past realities with current notions in a most whimsical way. http://www.simpleheady.com/ Simple Heady joined Society6 on April 18, 2016
More
Robert is a multi-media artist (painter, illustrator, cartoonist, muralist, graphic artist and sign maker to name a few). He grew up between Chicago and New Mexico and now lives just outside the city in Evanston where he maintains his studio.
The nature of his work mainly deals with struggles to balance ideas, feelings and the physical world, with inspiration stemming from change, innovation, and experimentation with discipline and traditions of the craft. Although his work varies from one medium to another, he finds satisfaction in working from salvaged materials whenever the opportunity arises, such as reclaimed wood as a canvas, cut-outs from materials and publications of past, and even previous artwork. His mixed media works are visual escapes into surrealist scenes - merging past realities with current notions in a most whimsical way.
http://www.simpleheady.com/
Simple Heady joined Society6 on April 18, 2016.