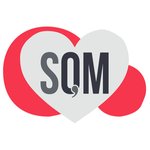 SimplyQuote.Me
The continuous search for my true passion and purpose in life gave birth to the SimplyQuote.me project that I'm very fond about. After a long time of struggle, the idea finally hit me: Graphic Design is my passion. For an outsider, it would have been very easy to figure it out. Most of my time was spent doing artwork for various design projects. I have a computer science background, but in my spare time, I was searching for Photoshop tutorials to improve my skills. I used to spend a big amount of time designing a piece of artwork only for the pure joy it gave me. But my nagging voice inside my head always said: 'No, it has to be something bigger than this. How can design contribute to the well-being of the world, or how does it bring value to others?' At the time, I was so 'blind' at what the reality was showing me, that I couldn't even put the graphic design together with the candidates for my passion. My search was always outside. For a long time, I used to believe that biology is my true calling in life because I loved plants and animals so much. Then ecology. Then traveling. I even tried to find a way to join the WWF for the Arctic Programme, with no success, though. Then I start delving into personal development and this was the point that changed it all. What's true is that I wasn't far from the truth. I loved them all and I still do, but I wasn't investing much time in them. My energy was design allocated. Personal development and coaching sessions helped me shift my focus point. Then I was able to bring a little bit of light into the dark I was living. The search was inside now. The truth is that books have been my companions since childhood and they were my help in this journey of mine. Without the lessons and the wise words of the most experienced people in life – the authors – I couldn't come to the point of accepting my true self. Out there are many extraordinary men and women that can help us if we allow them. Their inspiring words can guide us to find our purpose in life, to find happiness and strength or to motivate us to keep on going on this beautiful journey of ours, called life. SimplyQuote.Me is the fusion between these two passions: readings and design. We try to create the best artwork design that's able to bring life into the words. This way, words become more than just words. They become an entire story meant to inspire and bring magic into our beautiful lives. By the end of the day, we are left with little or no time for ourselves and SimplyQuote.Me understands it's importance. This is why our team takes the time to select the most inspiring quotes available out there to bring a little bit of sparkle into our days. We should all remember that 'It's about the journey, not the destination'. So it's our responsibility to make it worth living. Just let the sparkle in with SimplyQuote.Me. To keep updated with the daily inspirational quotes, please follow us on Facebook, Twitter and Pinterest: facebook.com/simplyquote.me twitter.com/SimplyQuote_Me & pinterest.com/simplyquoteme. Many thanks ♥♥♥ SimplyQuote.Me joined Society6 on January 10, 2017
More
The continuous search for my true passion and purpose in life gave birth to the SimplyQuote.me project that I'm very fond about. After a long time of struggle, the idea finally hit me: Graphic Design is my passion. For an outsider, it would have been very easy to figure it out. Most of my time was spent doing artwork for various design projects. I have a computer science background, but in my spare time, I was searching for Photoshop tutorials to improve my skills. I used to spend a big amount of time designing a piece of artwork only for the pure joy it gave me.
But my nagging voice inside my head always said: 'No, it has to be something bigger than this. How can design contribute to the well-being of the world, or how does it bring value to others?'
At the time, I was so 'blind' at what the reality was showing me, that I couldn't even put the graphic design together with the candidates for my passion.
My search was always outside. For a long time, I used to believe that biology is my true calling in life because I loved plants and animals so much. Then ecology. Then traveling. I even tried to find a way to join the WWF for the Arctic Programme, with no success, though. Then I start delving into personal development and this was the point that changed it all.
What's true is that I wasn't far from the truth. I loved them all and I still do, but I wasn't investing much time in them. My energy was design allocated.
Personal development and coaching sessions helped me shift my focus point. Then I was able to bring a little bit of light into the dark I was living. The search was inside now.
The truth is that books have been my companions since childhood and they were my help in this journey of mine. Without the lessons and the wise words of the most experienced people in life – the authors – I couldn't come to the point of accepting my true self.
Out there are many extraordinary men and women that can help us if we allow them. Their inspiring words can guide us to find our purpose in life, to find happiness and strength or to motivate us to keep on going on this beautiful journey of ours, called life.
SimplyQuote.Me is the fusion between these two passions: readings and design. We try to create the best artwork design that's able to bring life into the words. This way, words become more than just words. They become an entire story meant to inspire and bring magic into our beautiful lives.
By the end of the day, we are left with little or no time for ourselves and SimplyQuote.Me understands it's importance. This is why our team takes the time to select the most inspiring quotes available out there to bring a little bit of sparkle into our days.
We should all remember that 'It's about the journey, not the destination'. So it's our responsibility to make it worth living. Just let the sparkle in with SimplyQuote.Me.
To keep updated with the daily inspirational quotes, please follow us on Facebook, Twitter and Pinterest: facebook.com/simplyquote.me twitter.com/SimplyQuote_Me & pinterest.com/simplyquoteme.
Many thanks ♥♥♥
SimplyQuote.Me joined Society6 on January 10, 2017.