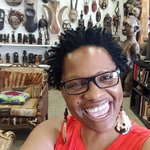 Tricia Simpson
Tricia Simpson was born on the Caribbean Island of Barbados in the year of 1974. For Tricia Art was a part of her life growing up, on the Island of Barbados life was filled with The Tropics Of The Oceans and a colorful lush Botanical of inspiration. "Art Is Life, Feel The Rhythm Of Life" Tricia Simpson joined Society6 on December 31, 2016
More
Tricia Simpson was born on the Caribbean Island of Barbados in the year of 1974. For Tricia Art was a part of her life growing up, on the Island of Barbados life was filled with The Tropics Of The Oceans and a colorful lush Botanical of inspiration.
"Art Is Life, Feel The Rhythm Of Life"
Tricia Simpson joined Society6 on December 31, 2016.