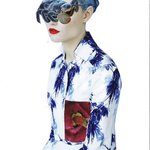 Katy McHugh
Katy McHugh creates paintings, drawings, mixed media artworks and conceptual artworks. By studying languages and culture, signification and visual communication, McHugh wants to amplify the astonishment of the spectator by creating compositions or settings that generate tranquil poetic images that leave traces and balances on the edge of recognition and alienation. Her paintings appear as dreamlike images in which fiction and reality meet, well-known tropes merge, meanings shift, past and present fuse. Time and memory always play a key role. By applying a poetic and often metaphorical language, she tries to grasp language. Transformed into art, language becomes an ornament, but McHugh believes that art can also be transformed into language, a tool for communication that transcends verbal communication. At that moment, lots of ambiguities and indistinctnesses, which are inherent to the phenomenon, come to the surface. Her works question the conditions of appearance of an image in the context of contemporary visual culture in which images, representations and ideas normally function. By investigating language on a meta-level, she makes work that generates diverse meanings. Associations and meanings collide. Space becomes time and language becomes image. Her works focus on the inability of communication which is used to visualise reality, the attempt of dialogue, the dissonance between form and content and the dysfunctions of language. In short, the lack of clear references are key elements in the work. Katy McHugh currently lives and works in Brisbane, Australia. Katy McHugh joined Society6 on August 15, 2014
More
Katy McHugh creates paintings, drawings, mixed media artworks and conceptual artworks. By studying languages and culture, signification and visual communication, McHugh wants to amplify the astonishment of the spectator by creating compositions or settings that generate tranquil poetic images that leave traces and balances on the edge of recognition and alienation.
Her paintings appear as dreamlike images in which fiction and reality meet, well-known tropes merge, meanings shift, past and present fuse. Time and memory always play a key role. By applying a poetic and often metaphorical language, she tries to grasp language. Transformed into art, language becomes an ornament, but McHugh believes that art can also be transformed into language, a tool for communication that transcends verbal communication. At that moment, lots of ambiguities and indistinctnesses, which are inherent to the phenomenon, come to the surface.
Her works question the conditions of appearance of an image in the context of contemporary visual culture in which images, representations and ideas normally function. By investigating language on a meta-level, she makes work that generates diverse meanings. Associations and meanings collide. Space becomes time and language becomes image.
Her works focus on the inability of communication which is used to visualise reality, the attempt of dialogue, the dissonance between form and content and the dysfunctions of language. In short, the lack of clear references are key elements in the work. Katy McHugh currently lives and works in Brisbane, Australia.
Katy McHugh joined Society6 on August 15, 2014.
Katy McHugh's Store
79 results
Filter