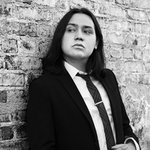 Sergio Bastidas
I'm a photographer in the Los Angeles area. Shooting music and doing portraits are my passion. For those buying my photographs, it would be awesome if you take a photo of you holding the print and send them to my email! I'll post them on my fb! Sergio Bastidas joined Society6 on April 18, 2011
More
I'm a photographer in the Los Angeles area. Shooting music and doing portraits are my passion.
For those buying my photographs, it would be awesome if you take a photo of you holding the print and send them to my email! I'll post them on my fb!
Sergio Bastidas joined Society6 on April 18, 2011.
Cards by Sergio Bastidas
2 results
Filter